Phil Neville believes Liverpool manager Jurgen Klopp was right to rotate his squad this week.
Jurgen Klopp is right to rotate his squad
beer777
so Liverpool avoid a repeat of last January's dip in form, according to Phil Neville.
Klopp has come under much scrutiny in the past week, having made six changes for the Merseyside derby against Everton last Sunday, only to see his side, that had won 7-0 in the match previously, held to a 1-1 draw by Everton.
Another disappointing home draw followed against West Brom on Wednesday, with Liverpool's rhythm deserting them once more. Klopp's policy has become a key talking point as a result.
Neville, however, speaking on The Debate, feels Klopp has every right to rotate, to ensure his side avoid a repeat of their nightmare January last season, where a tired-looking Liverpool won just one in seven league games.
"With the way he plays, he has to rotate," Neville said. "I actually agree with what he is doing. I think he did take a little bit of a risk on Sunday against Everton. They dominated the game, then Everton got the penalty and got the draw.
"Then, against West Brom, Klopp played his strongest team and they also drew. You are damned if you do, damned if you don't.
In the three or four games before that when he rotated and they got good results and nobody said anything about it.
"He has to make sure that in December and January his best players are fit and ready, because if they're not and they suffer the injuries they had last January, particularly the way that he plays, they will again have a difficult January-February."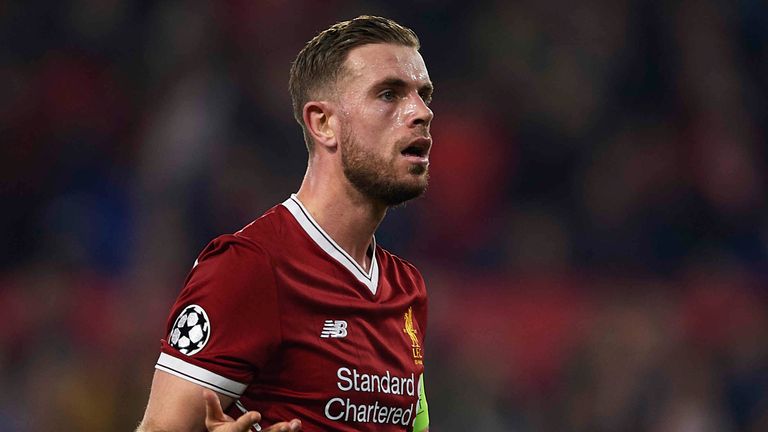 Jordan Henderson was benched by Klopp for Wednesday's draw against West Brom
Matthew Upson did not share the sentiment, and feels that players produce their best form when they are playing regularly from the start.
"I don't like that amount of rotation," Upson said. "If you look at teams that have won trophies and been successful, they have kept a steady backbone, formation and personnel.
"My best football was when I knew I wasn't missing a game. I prepared myself that I was going to play every game, and produced my best form that way."